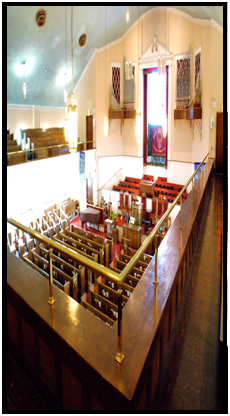 EVERY WEDNESDAY
Share in our weekly Intercessory Prayer & Praise beginning at 6:30PM
"The church grows when we come together and pray!"
---
OUR KNOWN SICK & SHUT IN MEMBERS
Mamie Adams, Dorothy Baker, Colena Barfield,
Erma Brunson, David Bynum, Clinton & Beryl Codling, Carolyn Crider,
Zenobia Dixon, Paul Farrell, Alice Fabre, Deacon Bernice Griffin, Sheila
Gilchrist, G Audrey Haywood, Grace Hunter, Maude
Hutchinson, Elizabeth Johnson,
Ben McCollum, Leola McIver, Addie McLaughlin, Hazel Miller,
Shirley Myles, Harriett Nolley, Mattie Olowosuko, Ruth Paige, Trustee Frank
& Ophelia Perry, Olga Porter, Clara Richardson, Shirley Rhodes, Wixxie Rivers,

Ethel Smith, Welchia Stokes, Rita Taylor, Lillie Ware, Eleanor Washington,
Emma Watson, Jared Watson, Kathleen Wesley, Pearline White and Agnes Youell.
Please send a card, make a call and pray for our known sick and shut in.
Concerning inquiries of those listed, please call or come into the church office.
---
BEREAVEMENT NOTICE
We sorrowfully announce passing of the
following members & family members
Mother Geneva Harbour
---
CHURCH LIFE
We encourage all to participate in the life of the church.
Get involved in Ministry.
Join a ministry that gives you opportunity to share your time, talents and gifts.
Study the Bible by joining a Sunday School Class or attending weekly Bible Study.
Attend corporate prayer - weekly as well as in your daily life pray without ceasing.
"It's all about the right relationships - Build on your relationship with God, Family, Church & Friends!
Volunteer time to the daily operations of the church.
Invite others to come and share in worship and other activites of Berean.
If you see something to do...Say something and do something!
Contact our Church Office with your inquiries and concerns -
Looking forward to a wonderful year!
---
---
There are a few left-get yours today!
To purchase

the
Historic Pastoral 25th Souvenir Journal
see Deacons Gerri Scott or Kim Ellis.
Directly after Each service or come to the church office for this historical keepsake.
---
Sunday School is for...?
EVERYBODY
Join us for a time of Study
Every Sunday at 9:00 AM
Classes for all ages and there's a class just for you!
---
Every Thursday Evening - Bible Study and Fellowship
for our Young Adults: 20-30
EMERGE
Share in this time of discussion, lesson and network for our young adults...
7:00 PM in the Deacon's Suite
---
FEBRUARY is a month of LOVE & HISTORY
THE BEREAN MUSIC MINISTRY
Presents
A Jazzy / Motown Afternoon
"A salute to our History in celebration of our great genres of music!"
With the fabulous
CODY CHILDS & The Ladies of Soul
Plus Total Praise Dance Ministry – Crown Heights Gospel Church

SUNDAY AFTERNOON FERBRUARY 26, 2017
@ 2:00 PM
DONATION $20.00


For inquires please call: 718:774-0466 x 115 - www.bereanbaptist.org
"Join us in an afternoon of building the right relationships" Mark 12:29-31






---
---
f you have the skills in retailWe are loooking for persons to share in this ministry i
is open directly after 11:00 AM Worship Service each Sunday.


THE BIBLOS BOOK & GIFT SHOP
or want to take a shot at learning it - See Sister Annie Hickson in the church office.